*Aurion has now released a step-by-step guide to processing the JobKeeper payment. In response to the economic challenge posed by the coronavirus, which has seen many businesses struggling to retain their employees, the Government has announced a plan for a $130 billion JobKeeper payment to help keep more Australians in jobs and support businesses, and help them restart quickly when the crisis is over. Under the JobKeeper program, employers will be able to claim a fortnightly payment of $1,500 (before tax) per eligible employee from 30 March 2020, for a maximum of six months. It's estimated that around 6 million workers will receive the JobKeeper payment, which means they can keep their job and earn an income – even if their hours have been cut, and even if they are self-employed. We're working with the ATO to create a JobKeeper solution for Aurion customers right now, and will provide guides and assistance options as soon as possible. Please note, at the time of this blog's publication (Thursday 2 April) the JobKeeper program is not yet law. To be the first to hear about how to manage JobKeeper payments in your Aurion solution, please subscribe to our updates. If you're not an Aurion customer, please contact our team of Payroll & HR Specialists and we'll be in touch to discuss how our payroll solutions can help your business in this difficult time. Employers and employees can access fact-sheets about their eligibility and the payment process at Treasury's JobKeeper webpage, and employers can register their company's interest at the Australian Taxation Office.
About the Author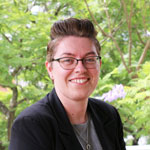 Joy Richardson
General Manager of Client Engagement
Joy has worked with Aurion since January 2012 and is a specialist in developing and managing a quality management system, information security management system and risk management framework that complies to People and Payroll Solutions.